Why WESCO and Anixter for Fiber Broadband?
WESCO and Anixter provide best-in-class utility products from leading industry manufacturers, helping you navigate designing, building, and deploying fiber optic networks. To stay competitive and capitalize on additional revenue streams, utilities launching fiber networks will provide subscribers with the demanded bandwidth. We are committed to providing the products, services, and expertise needed for successful FTTH deployment.
Project Management
WESCO and Anixter can help streamline your project with a variety of end-to-end supply chain solutions that will save you time and money. Solutions include warehouse staging, material staging (both on-site and off-site), product kitting, just-in-time delivery, VMI services, project planning/management/make-ready, cable cutting, and customized eCommerce solutions. Our unmatched customer service and account management professionals ensure your fiber build projects stay on budget and schedule.
Rural Broadband Network Deployment
If you are thinking about deploying a fiber network or have recently been award RDOF funds, we can help ensure your project is successful.

Learn more about our RDOF Funding support.
Deploying a rural broadband network can be challenging, but WESCO and Anixter have the solutions to help you level the playing field. Our team is comprised of professionals with decades of experience and expertise in the broadband industry, and we have partnered with the top fiber and utility suppliers to provide the products, services, and solutions needed to successfully deploy fiber networks.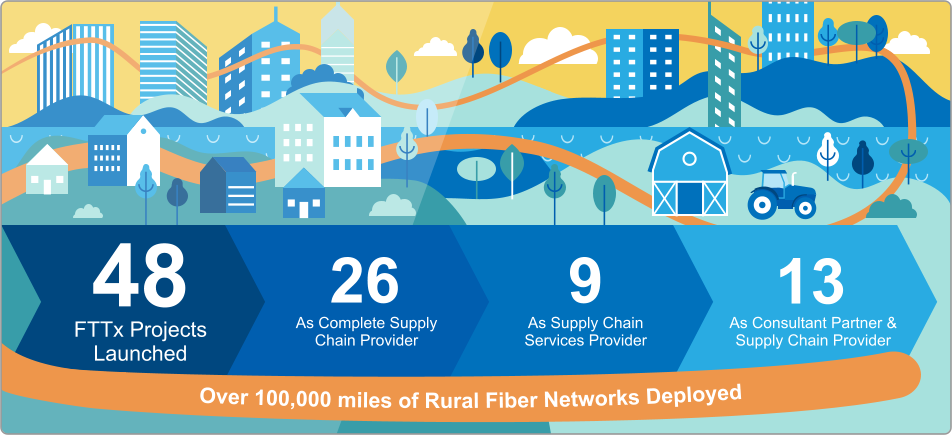 Fiber Optic Services
WESCO and Anixter provide several services specifically for FTTx networks, in addition to any customized solutions your unique project may require.
• Asset Management
• Cutting Fiber Optic Cable to Custom Length
• eCommerce Solutions
• Kitting
• Product Demonstration & Training
• Product Warehousing
• Project Management
• Project Planning / Make-Ready
• Technical Support for ISP, OSP and Wireless Networks
• Vendor Managed Inventory (VMI)
Fiber Optic Products
WESCO and Anixter have products for building scalable, future-ready, and cost-effective fiber networks. Our extensive investment in inventory, coupled with our excellence in customer service, will ensure that your fiber projects stay on schedule.
• 4G/5G Products
• Access Points and WiFi Hot Spots
• Assemblies & Patch Cords
• Cabinets & Enclosures
• Cable & Connectors
• Consumables
• MaxCell & MaxSpace
• OSP Products
• Personal Protective Equipment (PPE)
• Preparation, Inspection & Cleaning Tools
• Racks & Wall-Mounted Panels
• Safety Equipment
• Small Cell Products
• Smart Poles
• Splice Closures
• Splicers & Cleavers
• Splitters & WDMs
• Terminals
• Test Equipment
• T&D Materials & Equipment
Resources

Expertise Drives Fiber Deployment for City of Loveland

Utility Fiber Network Solutions Brochure

Utility Fiber Broadband Solutions Brochure